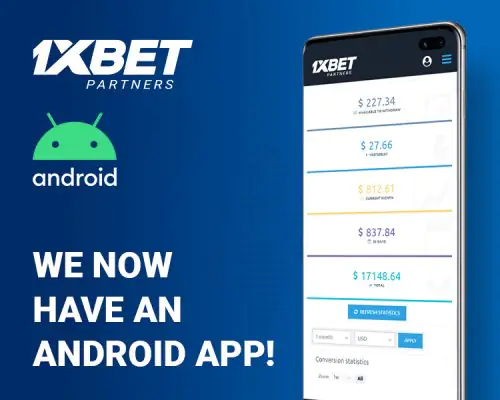 Every year, more and more Internet users use mobile applications for business. These apps enable them to make money, stay in touch and be mobile in every sense. Now, the 1xBet affiliate program app is here to help you stay connected to your income 24/7.
1xBet is a leader in innovation in the betting industry, always striving to make the experience of its customers as user-friendly as possible. We are constantly improving the quality of our services, and as a result, have developed the 1xPartners mobile application for Android. This intuitive app will enable all partners to monitor their profits at any time.
With the 1xPartners mobile app, you always have an accessible and relevant data array at hand. You can analyze data to optimize profits by simply opening the application on your phone at any time.
The stylish, concise design of the application is easy to use, with an intuitive interface that makes all tasks simple. You can also withdraw money in the app and perform all other operations that are available in the web version of the 1xPartners affiliate program.
The mobile application will help you achieve the best conversions for your markets by taking advantage of unique bonus offers and the most convenient marketing tools. Powerful, easy and effective – taking your business to the next level.
The app can be downloaded in one click right now at 1xPartners.com. Every day, more and more participants of the 1xPartners affiliate program are optimizing their businesses. Making money with 1xBet has never been so easy – download the 1xPartners mobile app and see for yourself!