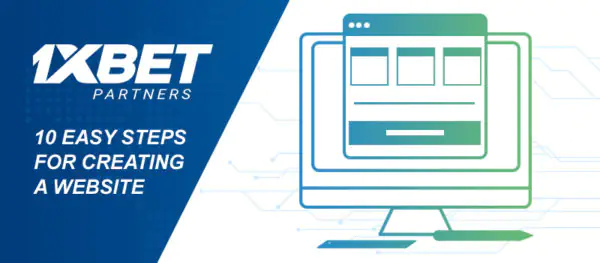 In 2020, when the volume of the world market for the Internet economy is measured in trillions of dollars, creating your own website is almost a must if you are interested in developing your business. Of course, the mobile application market is growing even faster, but this is the case when one does not interfere with the other if you want to reach the largest possible audience.
The 1xBet affiliate program tries to list the factors you should pay attention to if you decide to create your website.
Site creation plan
 When you decide that your company needs a website, you should immediately start thinking over its structure and content. You need to determine for yourself what tasks and goals your website pursues. Drawing attention to the company, participating in affiliate programs, for example, 1xBet Partners and other options – each of them needs its own plan. Develop the site's concept, decide on the design, highlight the main pages where you will lead your visitors, think over the issue of SEO optimization, and fill the site with content.
Choosing a domain and logo
The choice of website domain depends primarily on the market in which the company operates or plans to operate. If it is focused on a particular country's market, then it is more logical to use a domain in that country's zone (with the endings .ru, .ua, .us). An exception may be countries whose domains can be perceived as part of the site name (for example, Montenegro successfully trades .me domains) or indicate how the company operates (many medical companies are registered in the Moldova .md domain zone).
If the company operates on the international market, then it is logical to use the .com domain name. You also need to remember that many will depend on the site's name: search engines can display your site's pages more actively if its name matches a popular query. However, you should not make the name of the site longer than three words – it looks ugly, and it is so-so remembered. As for the logo, it should be extremely laconic and compact. This graphic sign is the site's interface, which should be as clear as possible and make it possible to quickly understand what the company is doing.
Website design development
At this stage, it is often worth bringing in web design professionals who will help make your page not only functional but also beautiful. Of course, the last word is always up to the customer. But it is worth remembering: if you turned to professionals, they often have a better idea of ​​what is currently in the trend in design and how much your vision coincides with the feeling of beauty.
We are talking about quite specific things: menus, colors, pictures, illustrations, fonts, action buttons. Pay special attention to the home page. It is the face of your site; it depends on it whether the visitor wants to deal with the company, whether he believes that here he will get what he is looking for. And remember about the need for a responsive mobile version. Ideally, you should also set the task of acquiring a mobile application, but this is a topic for a separate article, which 1xPartners affiliate program participants will certainly read.
The main pages of the site
As noted, the home page of the site is of paramount importance. In some cases, it is limited to creating so-called business card sites. However, if your company claims to be more than a formal presence on the Internet – for example, to make money with 1xPartners, it is worth remembering: there are a few more pages that should not be neglected.
First of all, this is the "Contacts" page. Clients need to know how to find you and who to contact on what issue. Also, for the communication with partners, you need to create a "Reviews" page; it will help to form an opinion about your company from those who have not yet worked with you. However, the subject representation is created after your company has a list of services/goods/materials that can be obtained with its help. Pages for a blog and news related to your work will be appropriate. After all these pages, you can think about creating more niche things, like a photo gallery or a page with a presentation of company personnel.
Using Drag-and-Drop Editor
Let's assume that your company is not yet as wealthy as 1xBet. Would you like to commission the development of a website with all its pages from scratch? For such cases, so-called drag-and-drop website builders are now often used. The WordPress platform and others like it help those who have patience and believe in creating a website on their own in building a website.
The Drag-and-drop Editor (or simply the editor) allows company representatives to choose and customize the display of the elements that you want to see on the site. Text boxes, image windows, and other visuals can be dragged and dropped wherever you want on the website page. In the usual WordPress editor, the ability to write and edit HTML-code is "hardwired," as well as immediately see in visual mode how your website design will look.
How to get free stock photography (graphic content)
Stock photos are photos that are in select image banks. Such photo banks are intermediaries between the authors of photographs and those who need pictures to create their own website. The photobank pays a fee to the authors in case of purchasing this image.
It should be noted here that such photos are available not only to you, and you should not take the first ones that come across. There is a risk that dozens of companies liked them in the same way and decided to go the same way before you fill the pages with content. Therefore, you should carefully approach the issue of using stock photos on your website, carefully studying the licenses for use and the number of downloads of the photo, which, as a rule, is indicated in the photo banks.
Also, photo banks are divided into micro stocks and macro stock; in the first place, the price for a photo is much lower, but many more people can afford to buy a photo. Assess your financial abilities, the need for unique images – and choose a photo bank, since Google is full of options.
There are also tons of great sites where you can find free, high-resolution stock photos for just about any topic. With so many options available online, making the right choice for stock photography can be tricky. An excellent way to pick your favorite stock photography site is to test them and search for the images you want on several different ones.
Search Engine Optimization (SEO)
Let's talk about the technologies you should use to promote your site and its pages in search results.
– long-tail SEO keywords – queries that are formulated more accurately and uniquely than standard page queries. Such requests cause the appearance of higher quality traffic because people are looking for particular products/services, which means they are initially willing to pay for them.
– local SEO – promoting your company as operating in a limited area. Local SEO is influenced by the physical address on the page, your presence on popular services like Google Maps, and the adaptation of your content for searches in local cities. In general, do not be shy about specifying your location data: after all, there is a widespread stereotype that sellers who live next to buyers take a more responsible approach to customers.
– SEO on the page – optimize not just the entire site as a whole, but specific pages. Write down the meta tags (title, description) and headings (H1) in detail, describe the topic of the page, enter the relevant keywords that are most interesting to potential site visitors (Google services will help here too).
– mobile optimization – taking into account the fact that smartphones appear even in the most backward corners of the planet, one of the most promising areas of SEO-optimization of pages is associated with them. Mobile searches already account for about 60% of all searches, and Google pessimizes those sites that are not tuned to search through smartphones.
– Technical SEO and Page Speed ​​- try to check your site's loading speed with specialized resources like Google PageSpeed ​​Insights, LightHouse, or Webpagetest.org. Page speed is a direct ranking factor in the Google search engine algorithm. To increase the loading speed, you can reduce the size of the site pages and refuse unnecessary scripts. It's important to make sure your site is fast enough to not generate negativity from users.
Creating a blog
Literate content is one of the most important factors that attract and increase interest in your site. The best format for publishing such content is a company blog page. Based on the experience of 1xBet in the blog, you can share both corporate news and market news, talk about your vision of the situation in the industry, upload interesting research and forecasts.
There are some simple rules to follow after starting a blog and deciding on its topic. The first is to regularly post content there, teach clients that you always have something interesting. Second, if you do not feel the talents of Lev Tolstoy or at least of Alexandre Dumas, then entrust the filling of the site pages to professionals. Yes, putting letters into words and words into a sentence is a craft that can be learned, but why to learn if you can use the work of others. Third, promote your content across all available channels, from word of mouth to social media. And then the pages of your site will be at least interesting to read.
Publishing the site
This paragraph will focus on how you upload pages, fonts, and graphics files to a web server. First, you can burn the site to disk and take it to the web server administrator to copy the contents of the disk to the server and configure the software. Secondly, you can upload your site data with its pages to the online web server yourself. Third, you can use the File Transfer Protocol (FTP) to transfer files to the network through a dedicated FTP client.
The disadvantages of the first two methods are the need for a familiar web server administrator and restrictions on the download speed/number of files that can be downloaded. Therefore, the most popular option is using FTP. You will also need to take care of purchasing hosting (rented file space on a web server) and a unique domain name that will become the address of your site.
Setting up contacts (contact forms, etc.)
Contact forms allow you to establish and maintain contact with site visitors, call them to action (for example, by offering discounts in exchange for user data), and interactively increase visitor engagement with what the site has to offer on its pages. You can choose the appropriate contact form in online constructors and entrust its development to freelance programmers. The cost of such work is affordable even for start-up companies.
All these steps will help you create a website that will help you earn the fullest, including through the 1xBet affiliate program. Be modern – and make your site a reliable source of income with a reliable bookmaker!