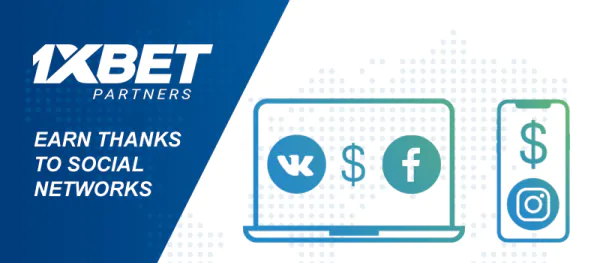 Want to get into the affiliate marketing business but building a website sounds like too much for you? All that SEO wizardry that you know nothing about, organic visitors, PPC and all the slang that just makes no sense can easily scare off anyone. If you're wondering why we're pointing out all these negative aspects, it's because you can be a successful affiliate without worrying about all that stuff. It's the age of Social Media after all! Here's how you can use social networks to successfully promote 1xBet and get some impressive figures out of it.
Instagram Can Be Better Any Affiliate Website Out There
With 1 billion monthly active users and over half a million daily users, Instagram is the perfect place for affiliate marketing. We're sure you are already aware of all the influencers out there making insane amounts of money for promoting various products. It can work exactly the same for you as well. If you have a popular profile and enough followers, you can join the 1xBet affiliate program and generate some extra income right away.
Through Instagram posts and stories, you can reach an amazingly-wide pallet of people and when promoting a product like 1xBet you also cut out a lot of negatives that other products come with. For starters, 1xBet is already a platform that millions of players tried and enjoyed. Secondly, you can enjoy a wide range of marketing materials to make it a lot easier to promote us on Instagram and boost your revenue.
Use Facebook Groups to Extend Your Reach
Even if your social media profile isn't that popular, you still have a long list of tools ahead of you that will help you make money through your affiliate business. Using the multiple groups available on Facebook is one way to do so. Especially since Facebook's policy towards gambling and betting has been relaxed in recent years, there are a lot of groups on betting topics you can use to promote 1xBet and get your rewards.
Of course, you should be careful to always follow the group rules and not overdo it. However, with groups often containing tens of thousands of people, you are sure to have far better chances than just posting on your profile.
Don't Limit Yourself to Just one Social Media Platform
As soon as you get started with and you get your first earnings with the 1xBet affiliate commission, you will want to expand as quickly as possible. Luckily, creating social media accounts is free of charge and we recommend you to use as many platforms as possible. Instagram, Facebook, Twitter, Tik Tok, there are endless possibilities out there for you to get a generous income one you get some followers and people convince themselves that you are promoting a high-quality platform.
All you need to do is present them to the 1xBet brand and then we'll do all the rest thanks to the innovative platform, high bonuses, generous rewards and prizes and, of course, huge odds on a wide range of sporting markets.
It's so easy to become a 1xBet partner and make money online from promoting our brand on social media. Take the first step right now! Register today and see for yourself just how facile it is to boost your income simply by recommending 1xBet!