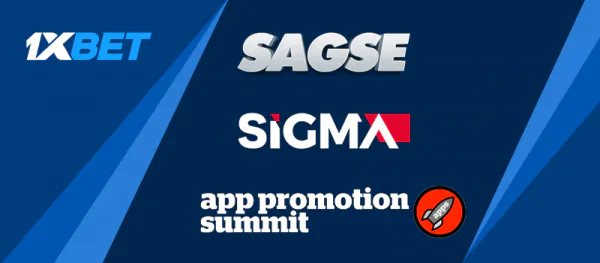 The 1xBet team shares its impressions of attending large-scale events dedicated to the development of the gaming business.
2019 has been a very busy year, featuring various events and activities within the gambling industry. Leaders in this field regularly come together to discuss future prospects and plans.
Betting company 1xBet is a constant participant in such events. In the past month alone, representatives of this company visited leading exhibitions in Valletta, Buenos Aires and Berlin. Events of this calibre have played a large role in determining the future of the industry as a whole.
At SIGMA in Valletta, advanced software was demonstrated and innovative industry solutions were proposed. Guests had the opportunity to discuss possible deals and enter into partnership agreements.
According to representatives of 1xPartners, such events always leave a positive impression while providing an opportunity to meet with long-standing partners and make new acquaintances, all of which can be the beginning of large-scale co-operations.
The prestigious Malta Gaming Awards were also presented at the exhibition. 1xBet was nominated as "Platform of the year in the field of sports betting". Such recognition is very valuable for any company seeking further growth.
The organizers of the exhibition have already announced the venue of the next event, which will be held in 2020 in the capital of the Philippines, Manila.
The SAGSE Buenos-Aires exhibition was further proof of how active the gambling industry is in Latin America.
Argentina hosted a top-level event, with vitally important discussions regarding the region's specifics and prospects for the development of the gaming sphere.
The presence of 1xBet at this exhibition was significant because the company is actively responding to the growth of the Latin American market. Players and partners from South America continually show their passion for the gaming field, while 1xBet is constantly striving to innovate and promote fresh ideas within the industry.
Winter began with one of the leading digital events in the sphere of mobile applications – App Promotion Summit 2019, held in Berlin. Always intent on keeping abreast of advanced marketing trends, 1xBet was an active participant at the conference, studying growth tactics directly from world experts and regional leaders.
The main conference and parallel seminars covered the entire spectrum of application development technologies, including influence marketing, ASO, social networks, user acquisition, analytics, involvement and further work with clients. The speakers included such world leaders as LEGO, eBay, Delivery Hero, Amazon, Universal Music, Yoox Net-a-Porter, OTTO, Audible, Huawei and others.
Participation in the App Promotion Summit 2019 allowed the opening of new professional development areas, as well as enabling meetings with recognized experts in the development of mobile applications.
The coming year promises even more interesting events. The 1xBet team will enjoy meeting with partners and sharing insights into improving conversions, together with other benefits of the affiliate program.