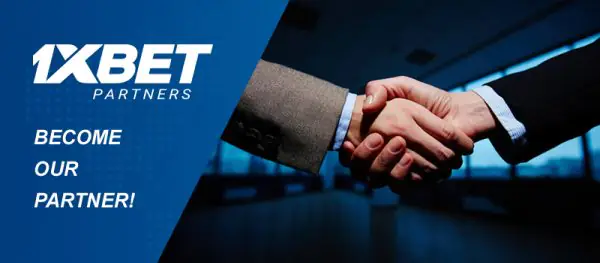 1xBet is an incredibly popular betting company among sports fans. No less popular is the 1xBet affiliate program, which makes it possible to effectively monetize your resource. Working with the 1xBet affiliate program is very simple.
As a rule, new partners have many questions before starting cooperation with an affiliate program.
What is the best earning model when working with 1xPartners?
Revenue Share has traditionally been the most popular affiliate earning model in the industry. The same is true at the 1xBet affiliate program. With this plan, each of the players referred by the partner is assigned to him for life. What does this  mean? Simply that. for the entire duration that the bookmaker profits from the player, the partner receives a percentage of this profit.
Right from the  start of cooperation, the partner will be provided with marketing support and a personal assistant who will be ready to answer any questions. Thanks to this, you can quickly understand the mechanics of cooperation and attract a growing number of players, thereby increasing your income.
Is it mandatory that your resource be related to sports?
1xBet has an incredibly wide line of bets, including bets on a large variety of interests. TV shows, movies, music awards, science, economics and politics – there are options for almost any platform. Therefore, it is not necessary that your content be related to sports in any way.
In addition, the 1xBet website has sections devoted to online games, poker and live casinos. This opens up a gigantic spectrum of earnings opportunities for brand partners who can choose any option that suits them.
Are there any restrictions on the country from which you work?
The constantly growing list of participants in 1xPartners includes representatives of several dozen countries. 
When entering into a partnership with 1xBet, you get a reliable partner who guarantees timely payments, quality support and effective marketing assistance from the very beginning of cooperation.
How are payments made with 1xPartners?
Payments are made every week on Tuesdays with partners receiving the amount earned over the past week. Payments are made automatically in one of your chosen currencies – either rubles or U.S dollars. It is important to remember that in order to withdraw money, your account must have a balance of at least 1,500 rubles or $30.
You can withdraw money using your choice of the many popular payment systems offered.
How do you join the 1xBet affiliate program?
Becoming part of the 1xBet affiliate program is easy. Right now you are on the affiliate site and you just need to click the "Register" button and fill out a short form. Then, the process of reviewing your application will be completed within 48 hours.
Are there any other questions? If so, help is always at hand – simply contact:
Email: [email protected]
Skype: affiliate.1xBet
Affiliate programs on the internet are a superb tool to monetize your traffic. Start earning with 1xBet – and join the affiliate program of the leading bookmaker!