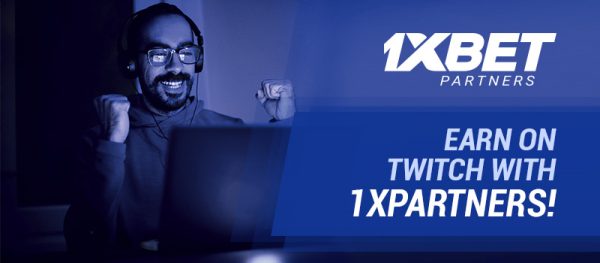 Love video games and would like to monetize your own hobby? Then Twitch is for you!
The popularity of streaming platforms is growing exponentially. The reason for this is the development of technology, which allows direct broadcasting to almost any PC owner.
No wonder Twitch has become home to hundreds of thousands of streamers today. And if for some it's a hobby, for others it's a way of earning and promoting products.
Thousands of streamers have already made Twitch for themselves a relevant source of income. Someone enters into sponsorship contracts with brands, while someone simply has a 1xBet affiliate program.
Twitch? What is this all about?
Today, Twitch is the main streaming platform of the planet. With its help, millions of users can live broadcast games and communicate with the audience.
This is where the big tournaments for Dota 2, CS: GO are broadcast, and millions of spectators watch the game of streamers.
Interested in? To start streaming on Twitch, you don't need to be a top player and an e-sportsman. Here the doors are open for all players and everyone can find their own niche and friends of interest.
If you are interested in whether Twitch monetization is possible, the answer is yes. The site has a built-in donation option for streamer, while the most popular channels are also a large advertising platform. And there are reasons for this.
Generation Z practically does not watch TV and likes to stream games
One of the main features of Twitch is the target audience of the site. This is the place where the young generation is concentrated, which both large brands and small businesses are trying to reach.
Young people over 18 do not read newspapers and do not watch TV, but they already have solvency and are interested in popular brands. That is why Twitch has become the platform where large and small businesses enlist the support of streamers for advertising. This is a powerful tool, because streamers have a loyal audience that trusts his opinion.
This information may also be of interest to 1xPartners associates. It is likely that on Twitch you can find the very audience that you have not previously reached.
How does Twitch advertising work?
There are two "advertising" approaches that are used at Twitch. Large brands go through advertising agencies, and this item is not particularly relevant for streamers.
Well, if you are a streamer or are going to become one, then you will be interested in the second way. Many brands resort to advertising services through streamers. A similar approach can be observed when working with opinion leaders on Instagram.
Many people find advertising through streamers more effective for a number of reasons. They have a loyal audience that  will definitely be able to convey the message. Accordingly, the brand develops loyalty from the streamer audience.
If you are looking for money on streams, then 1xBet Partners affiliate advertising is a good option for you. Advertise a partner's product on your streams, share a promotional code with your audience and earn money on the users you've provided. For this, Twitch is the best streaming platform available
What can I advertise on my channel?
Twitch is actively visited by many brands. Of course, leading brands seek to get the most top streamer. Manufacturers of gaming accessories are more active.
But the most popular option is making money on affiliate programs. By connecting to the 1xBet affiliate program, the streamer can advertise the well-known BC and earn money on the users it cites. Moreover, weekly payments and an understandable scheme of work attracted more than a dozen streamers. Including on Twitch.
And what advertising formats can be used during a stream?
If you decide to stream games, then you have several different options for earning on streams.
– brand logo during the stream. The easiest way: just put the 1xBet logo on the screen, for example. However, such a move more affects brand recognition and does not achieve great results.
– Advertise the product in your own chat. Write text messages about your partner and take viewers to the site. A good way for those who have an affiliate program
– mention of the product during the stream. You can also tell viewers about the strengths of the product and provide them with a promotional code. This is a fairly effective way to bring them to the right place on a streaming platform.
– Do not forget that you can lead with Twitch to your other sites. Thus, you have an entire ecosystem where you can promote the brand and make money on it.
– Take into account the interests of your viewers. If you are a FIFA streamer, then they may be interested in sports betting, while Dota 2 fans will be more attracted to the 1xBet eSports section.
Twitch leaves many ways for advertising communication and you are not limited in anything. The main thing to consider is which format in your case will be more effective.
What other ways to make money on Twitch?
There are several alternative options for making money on Twitch. Here are just a few illustrative examples.
– sales merchant. Suitable for those streamers who have already built up their own audience. It is unlikely that viewers will want to buy T-shirts and mugs with the symbols of a person they have never listened to. Twitch channel promotion should help you in promoting your own products.
– donations from the audience. Also a very popular way to make money on Twitch. Loyal fans eagerly help their beloved streamers financially. Of course, in return they expect to see as much quality content from you as possible.
sponsorship contracts. Many Twitch streamers are very popular with brands. Of particular interest comes from manufacturers of gaming chairs, gamepads and other accessories. Most often, the streamer receives such devices for free, so that the brand always flashes before the eyes of the brand
– participation in a tournament. If you're a top player, then on Twitch you are always welcome. Streaming and organizing big tournaments are regularly held here, so you can apply for one of these and make money on a successful performance while you stream games.
– paid subscription model. Twitch has the option of a paid subscription to the streamer channel. To do this, join the Twitch affiliate program. What will subscribers receive in return? Usually streamers publish their names during the stream and they also get their portion of popularity.
Twitch Affiliate Program – Another Way To Earn More
With a significant number of subscribers, you can apply for participation in this affiliate program. This will allow viewers to subscribe to your channel, which can increase your income. Again, you will share revenue with Twitch, but when you have subscribers, you earn money every month, regardless of whether these subscribers watch videos and ads.
It is important to note that participation in the Twitch affiliate program does not impose any restrictions on you in participating in other affiliate programs.
We can safely conclude that Twitch has become a platform that provides great opportunities for its audience. You can earn in dozens of ways, connect to the 1xBet affiliate program and just play your favorite games.
1xBet affiliate program is a great opportunity to earn money even for beginner streamers. Join, promote the product and increase your own income!