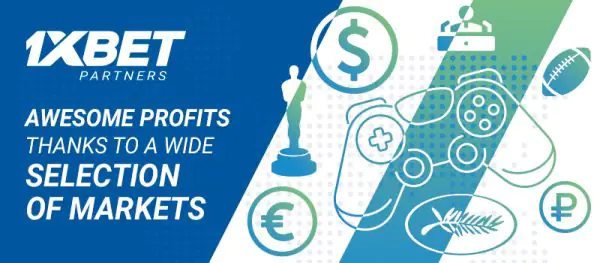 1xBet is a world-renowned betting company that was established in 2007. Since then, 1xBet has grown exponentially with online betting products that have gained both industry and customer acclaim. Notably, the massive choice of betting events it provides is a special source of pride for the company.
Usually, when talking about betting companies, we're merely referring to sports betting. But on the 1xBet site, there is a huge array of other events that you can also bet on.
This fact will be appealing to both players and also for those who are part of the 1xBet affiliate program. It's a well-known fact that not only leading sports sites but all types of websites and resources collaborate with the 1xBet affiliate program. These partners benefit greatly from the innovative range of betting opportunities at 1xBet.
Betting on CS: GO and Dota 2 – a wide choice of 1xBet esports events
Esports sites have long known how to make money with affiliate programs. Esports fans are devoted and many of them want to not only follow the tournaments, but also place bets. It's for this category of users that 1xBet offers a wide range of betting markets on competitions in Dota 2, CS: GO, FIFA and other disciplines.
The ability to bet on their idols – who wouldn't be keen?
Betting on Politics
1xBet also has a wide range of betting markets on political events including presidential elections, referendums and adoption of laws. Of course, such events will interest people who actively follow politics.
Sites that are focused on political topics can profit handsomely from promoting this category.
Special Bets
Will Prince Harry and Meghan Markle announce a pregnancy, will a base be created on Mars, and will Brad Pitt reunite with Angelina Jolie? The range of special bets on 1xBet will interest even the most sophisticated users. There are a wide variety of events, ranging from extraterrestrial visits to candidates for the Nobel Peace Prize.
This section is an ideal opportunity for partners with a narrow focus who have an audience with niche interests.
Entertainment Betting
Tv series plots, the Oscars, and whether the iconic Tv show "Friends" will come back for a new season, are just a few of the events on which 1xBet takes bets.
So, if your readers are interested in movies, Tv shows, and prestigious awards ceremonies, then these betting opportunities should definitely appeal to them!. And, as a valued partner, once your readers bet on these events you will earn.
Making money with affiliate programs is not always easy. However, thanks to the massive choice of betting markets on 1xBet, members of the 1xPartners affiliate program can always find a betting line that suits the theme of their site.